Artist Support Grant General Information
The Artist Support Grant was created to provide direct support to individual artists during and following the COVID-19 pandemic. The initiative will fund professional artists to enhance their skills and abilities to create work, or to improve their business operations, and capacity to bring their work to new audiences.
Eligible artists include North Carolina residents who have resided in eastern North Carolina for at least one year in the following counties: Edgecombe, Greene, Nash, Pitt, Wayne, and Wilson. Artists can include musicians, dancers, filmmakers, actors, literary artists, as well as visual artists. The average grant award is between $500 and $1,000.
This project is supported by the N.C. Arts Council, a division of the Department of Natural & Cultural Resources. www.NCArts.org.
Due Date: Saturday, October 1, 2022 by 11:59pm
All applications must be received online unless other arrangements have been discussed with staff.
Click appropriate button below to access the online application for your specific arts genre: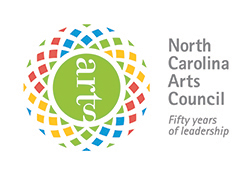 ARTIST SUPPORT GRANTS FACTS & GUIDELINES
This program funds regional consortia of local arts councils that award project grants to artists in their regions. These grants support professional artists in all disciplines and at any stage in their careers to pursue projects that further their artistic developments. Types of fundable projects include:
Creation of a new artwork
Purchase of equipment
Professional development workshops
Travel support for expenses associated with participating in a professional exhibition or conference
Development or updating promotional materials (websites, brochures, DVDs, and CDs)
The North Carolina Arts Council grants fund to the regional consortia by weighing the history and breadth of artist demand in the region, and the amount of the proposed artist match, among other factors. The average grant to artists is between $500 – $1000. The project must occur between January 1, 2023 – December 31, 2023.
Participating consortia promote the grant opportunity to the artists in their region, set specific regional guidelines in accordance with Arts Council guidelines, appoint a selection committee made up of arts professionals with expertise in disciplines under review, and facilitate the selection and award process. North Carolina Arts Council staff advises each regional consortium and attends selection panel meetings.
Pitt County Arts Council at Emerge serves as lead for the Eastern North Carolina regional consortium, and receives the Artists Support grant applications, schedules regional training sessions for artists, and manages the grant selection process. For more information, contact Holly Garriott, Executive Director, Pitt County Arts Council at Emerge, holly@pittcountyarts.org, 252-551-6947.
*Subject to overall dollar limits for the region.
Partner Organizations: Greene County Arts and Historical Society, Nash County Arts Council, Arts Council of Wayne County, and Wilson Arts
2021-2022 Artist Support Grantees
Matthew Amante, Pitt County
Jessica Bradsher, Pitt County
David Lee Buchanan, Pitt County
Dale Lee Bryce, Wilson County
Terri Campbell-Peyton, Pitt County
Shannon Chamblee, Pitt County
Gabrielle Duggan, Pitt County
Janie Askew Goddard, Pitt County
Rakia Jackson, Pitt County
Andre Jones, Wayne County
Sherrod Zachary Knox, Pitt County
Jordan Krutsch, Wayne County
Imani McCray, Pitt County
Lisa Beth Robinson, Pitt County
Daniel Shirley, Pitt County
Cyrus Claude Spears, Pitt County
Liz Steiner, Pitt County
Cedric Turner-Kopa, Wayne County
Alice Vines, Pitt County
2020-2021 Artist Support Grantees
Jacinda Aytch, Pitt County
Jessica Bradsher, Pitt County
Jerome De Perlinghi, Wilson County
Paula Jordan-Mayo, Pitt County
Jeff Bell, Wilson County
Ryan Harper, Pitt County
Rakia Jackson, Pitt County
Dale Bryce, Wilson County
Terri Campbell-Payton, Pitt County
Daniel Shirley, Pitt County
Quintin Mallette, Pitt County
Janelle Clevinger, Wilson County
Laronnieca Maye, Pitt County
2019-2020 Artist Support Grantees
Breanna Kusnierczyk, Craven County
Mark Arnold, Pasquotank County
Donna Nyzio, Carteret County
Jerome De Perlinghi, Wilson County
Fay Davis Edwards, Dare County
Liz Steiner, Pitt County
Robin Haller, Pitt County
Kathryn Osgood, Dare County
Rebecca Ives, Pitt County
Gabrielle Brant Freeman, Pitt County
Lipbone Redding, Beaufort County
Daniel Shirley, Pitt County
Bryan Conger, Pitt County
Wilson Arts is overseeing a new Individual Artist Recovery Grant Program through the National Endowment for the Arts' American Rescue Plan.  These grants are intended to provide financial economic recovery from the COVID-19 pandemic to members of Wilson County's arts and cultural community.
Individual artist grants are for specific projects or programs that include a community engagement component, focused on economic recovery with a measurable impact. Individual artist grants support work in all artistic disciplines including Visual Arts, Dance, Music, Theater, Literature or Media/Multi-Media.
The project program period is July 1, 2022 - May 30, 2023. We look forward to sharing updates from those projects that have received funding.