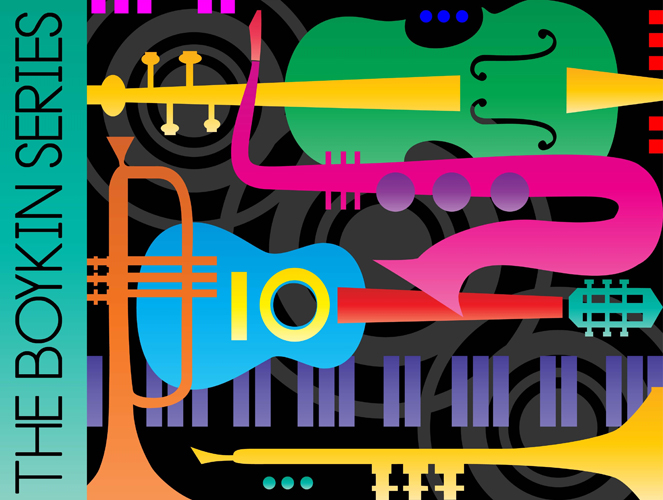 JOIN US AS THE BOYKIN SERIES CELEBRATES ITS 25TH SEASON!
Since 1996, the Boykin Series has hosted a variety of professional performances, including a cappella, bluegrass, classical, classic rock, dance, comedy, country, easy listening, jazz, and rock and roll.
The Boykin Series Committee and our staff have worked diligently on events for this season, which will include an amazing and eclectic assortment of professional  entertainment that will allow us to provide exciting and enjoyable cultural experiences for our community!
It's going to be a GREAT season – and we can't wait to see YOU at the Boykin Center!
Season tickets and Fall Series only tickets are no longer available for purchase; however, you can still purchase individual tickets to each show and tickets for the spring series.
Tickets for the SPRING SERIES ONLY are $120 per person.
For more information on purchasing season tickets, visit the Wilson Arts Center or call 252-291-4329 or download the reservation form.
Johnny Folsom 4, a Johnny Cash Tribute
Friday, April 14, 2023 at 7:30 p.m.
Tickets: $25 Adults, Seniors & Students
From A Boy Named Sue to Ring of Fire, the Johnny Folsom 4 pays tribute to the legendary Man in Black. Lead singer David Burney brings a lilting southern baritone to Cash's classic songs, which hits the mark well enough that you will wonder if Johnny himself is in the building. David Gresham more than meets the challenge of filling in for Luther and Carl Perkins on those classic guitar licks, and Tom Mills (bass) and Randy Benefield (drums) provide the hallmark, train-like driving rhythm the whole world loves. And when the boys are living right, the remarkable Miss Eleanor Jones joins in on those classic Johnny and June duets – it's hotter than a pepper sprout! True to the Mr. Cash's poetic spirit, JF4 promises an honest and entertaining performance for fans of all ages. For more information, visit the band's website at www.johnnyfolsom4.com.
Boykin Series 25 Arts Partners
Thank you to all of our Boykin Series 25 Arts Partners for making the 2022-2023 season possible!
Advertise your message and your brand before an active, engaged, diverse audience - and enjoy the benefits! The Boykin Series is Wilson Arts' professional performance series, and its playbills are read and retained as keepsakes by an audience with disposable income who come to the historic Edna Boykin Cultural Center throughout the year to enjoy high-caliber music, theater, comedy and dance.  Your ad will be prominently featured in all of the playbills for the 2023-24 season for just one price, and our competitive rates will help you reach this desirable customer base with your company's message!
If you would like more information as soon as the next season's information is available or if you have questions, please contact Stephanie Pridgen at (252) 291-4329 x107.
Artist Suggestion Form
We are always on the lookout for artists for the Boykin Series and other events throughout the year. If you have a suggestion, we'd love to hear it!